---------- Forwarded message ----------
From: "MEMS News" <
mems-news-owner@mems-exchange.org
>
Date: Dec 1, 2011 2:39 PM
Subject: MEMS Express from MNX
To: <
mems-news@mems-exchange.org
>

View Mailing Online
MEMS technology
Micro- and nano-electromechanical systems, MEMS and NEMS, have taken enormous steps in small-scale analytics and diagnostics and the associated term "lab-on-a-chip" has even diffused into the non-specialist vernacular. Miniaturised and novel components ...


yesterday spectroscopyNOW.com - MEMS technology

However, silicon is not piezoelectric, nor as cheap as quartz, so the only way silicon resonators can economically compete with quartz is if the devices can be made in their thousands using micromachining on a chip production line. ...


yesterday ElectronicsWeekly.com - MEMS technology

This means a direct interface between microelectronic devices and nerve cells – essentially the holy grail of cyborg-style integration of technology into the human body. This could lead to, for example, sensors inside a person's brain, ...


today TechEye - MEMS technology
MEMS business
Given their capability to improve car safety, convenience and fuel efficiency, semiconductor magnetic sensors used in automotive motors will enjoy fast market growth with revenue expanding by nearly 40 percent in 2012, according to an IHS iSuppli MEMS ...


today PCB007 (press release) - MEMS business

Pixtronix and Qualcomm had been pursuing different approaches to low-power displays, according to this 2009 New York Times piece, but both incorporated MEMS (microelectro-mechanical system) technology; in Pixtronix's case, thousands of tiny shutters ...


today Boston.com - MEMS business

Potomac Photonics is a leader in microfabrication. For more than three decades, it has helped clients develop miniature products and bring them to market with contact services spanning prototyping to production. Utilizing cutting-edge manufacturing ...


yesterday PR Leap (press release) - MEMS business

Integrated Device Technology, Inc. (IDT ® ) (NASDAQ:IDTI), the Analog and Digital Company™ delivering essential mixed-signal semiconductor solutions, today announced that it has developed and demonstrated the world's ...


yesterday - MEMS business

The 2000 employees of FEI provide electron- and ion-beam microscopes and solutions for nanoscale applications across many industries: industrial and academic materials research, life sciences, semiconductors, data storage, natural resources, and more. ...


today Laser Focus world - MEMS business

IBM's advanced TSV chip-making process enables Micron's Hybrid Memory Cube (HMC) to achieve speeds 15 times faster than today's technology. IBM will present the details of its TSV manufacturing breakthrough at the IEEE International Electron Devices ...


today Sacramento Bee - MEMS business
Nanotechnology
An important application of the finding is demonstrated as heterogeneous micro-scale crab shell chitin particles are successfully used to process transparent nanocomposites. The incorporation of nanostructured chitin macro-particles not only retains ...


today PhysOrg.com - Nanotechnology

Aneeve Nanotechnologies LLC has been conducting proof-of-concept work at the tech incubator with the mission of developing superior, low-cost, high-performance electronics using nanotechnology solutions that bridge the gap between emerging and ...


yesterday EurekAlert (press release) - Nanotechnology

By Cameron Chai A research team at the London Centre for Nanotechnology has for the first time found electronic stripes dubbed as 'charge density waves,' on the graphene sheet surface that produce a graphitic superconductor. ...


yesterday Azom.com - Nanotechnology

But not everyone in the scientific community is convinced that nanoscale forces are relevant to enormous tectonic events, such as earthquakes. Two objects become harder to slide apart the longer they sit in contact, explains lead researcher Robert ...


today Chemistry World - Nanotechnology

"Most of the reported process for the recovery of metals from the spent batteries focuses on production of metal salts/oxides/ferrites," Akash Deep, a scientist in the Biomolecular Electronics and Nanotechnology Division at the Central Scientific ...


today Nanowerk LLC - Nanotechnology
Featured Publication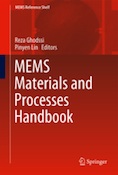 Academic and industrial research scientists and engineers, as well as students working in micro-electromechanical systems (MEMS), commonly encounter a steep learning curve when developing common MEMS fabrication processes. A fundamental, comprehensive MEMS-focused reference book just published by Springer promises to be an important game-changing asset for the field.
The handbook is co-edited by Reza Ghodssi, Director of the Institute for Systems Research and Herbert Rabin Distinguished Professor in the Department of Electrical and Computer Engineering at the University of Maryland, College Park, Md.; and Pinyen Lin, Chief Technologist and Vice President of Business Development, Touch Micro-System Technology Corp. Taoyuan, Taiwan. It features 35 international contributing authors who are MEMS leaders in academic, industrial and government laboratory settings.
The final chapter on Process Integration was written by MNX founder and director Dr. Michael Huff.
Event Calendar
2011-12-12 - 2011-12-14
Burlingame, California
Today's Manufacturing Advances, Tomorrow's Impact and Opportunity


2012-01-10 - 2012-01-13
Las Vegas NV
MEMS has an official home at CES


2012-01-21 - 2012-01-26
San Francisco CA
The world's leading photonics, laser, and biomedical optics conference
Visit MNX at this event.


2012-01-29 - 2012-02-02
Paris, France
Focus on Strategies for Reducing Time and Cost of MEMS Testing


2012-03-07 - 2012-03-08
Rosemont (Chicago) IL


2012-03-20
Zurich, Switzerland
MEMS Industry Group event co-located with Smart Systems Integration


2012-03-28 - 2012-03-29
Boston, MA
The Power of Connecting. Your Next Customer is Here!


2012-06-03 - 2012-06-07
Hilton Head Island, SC
A Solid-State Sensors, Actuators and Microsystems Workshop
Visit MNX at this event.


2012-06-06 - 2012-06-07
Rosemont (Chicago) IL
Providing over 25 Years of Technical Innovation & Thought Leadership


2012-06-18 - 2012-06-20
Bremen, Germany
International Conference and Exhibition on New Actuators and Drive Systems


2012-06-18 - 2012-06-21
Santa Clara CA
Increase your Innovation Pipeline!


2012-07-10 - 2012-07-12
San Francisco CA
Connect to Buyers, Grow your Business!