Thursday, January 5, 2012
OpenCores
NEW FPGA Development board, with Altera Cyclone IV E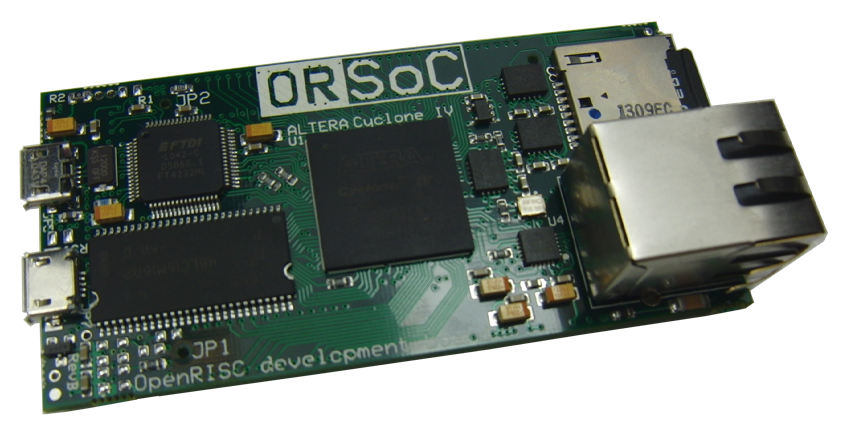 ORSoC has designed a Altera FPGA development board for the OpenRISC processor. This board enables easy access to the OpenRISC platform and gives the designer a fast start. The board is shipped with a pre-defined OpenRISC-SoC-design and includes everything to have a OpenRISC processor system up and running in no time.
A VirtualBox-Ubuntu-image is also available with all the tools pre-installed, making sure it's VERY easy to get started. A Linux 3.1 port is also included. This complete package actually turns this FPGA board into a small re-programmable embedded Linux computer that can be instantly be connected to Internet controlling this :-)
The development kit includes the following:
•ALTERA Cyclone IV E, 22K LUT (P/N: EP4CE22F17C6)
•SDRAM 32 Mbyte
•SPI FLASH, 1 Mbyte
•SDIO micro connector
•Fast Ethernet
•USB "on-the-go" HOST/SLAVE
•USB power, configuration, UARTs
•Expansion connectors (optional)
•Supply via USB
The board is 80x40 mm and contains two optional connectors on the bottom side with GPIO signals, making the board expandable.
More information about this product is to be found in the OpenRISC project website,
http://opencores.org/or1k/Ordb2a-ep4ce22
Price: 139.00 €
VAT excluded
VAT will be added to the total price by PayPal (only for destinations in the EU).
If you are a company located inside the EU you are not required to pay VAT, please contact ORSoC directly via info@orsoc.se for purchases.
Posted by

Lee Nelson
at 10:29 AM
0 comments
Links to this post